The E-learning industry is expected to reach a value of $325 billion by 2025 and right now, Online course platforms like Thinkific are leading the online course creation industry by storm.
Thinkific is one of the best online course platforms with over 75 million viewers. As a content creator, that's enough motivation to rank Thinkific as of the best course creation platforms for entrepreneurs, educators, and coaches.
At Thinkific, you can choose a template, create the course material, preview and publish your online course. You can also integrate other tools to convert emails, convert emails, promote promotional coupons, and leverage customer success.
Disclaimer: This article contains affiliate links that may provide me a small commission if you decide to make a purchase at no cost to you.
What is Thinkific
Thinkific is a platform that helps you transform your expertise into revenue. Its tagline is "Power Your Education Empire. It targets business coaches, entrepreneurs, and educators.
The platform allows you to create online courses using different formats like texts, PDF, Quizzes, videos, discussions, and many other content formats.
The reason many course creators love Thinkific is it's because it has all the tools needed for online creators to sell online courses.
You can create and manage your online course with simple drag and drop builders. However, you can design templates to make your course look better and more amazing.
With the availability to integrate 3rd party tools, Thinkific allows content creators to promote their business smoothly. we shall discuss the different marketing features later.
The ability to track students' progress using automated emails and reminders makes Thinkfic stand out as the best online course platform out there.
Who Can Use Thinkific?
Thinkific is an online course platform which means anyone who wants to create an online course can use the platform.
Even for someone who has never developed an online course, Thinkific has the right tools to create a successful online course from scratch.
some of the most common users are:
Online educators
entrepreneurs
Digital marketing olatforms
Coaches
Thinkific has helped create over a 75million courses and it has a community of 50,000 creators around 190 countries.
Creators have sold courses with $650 Million through Thinkific and that makes it one of the best course online platforms out there.
What makes Thinkific Standout
Below are the features that Thinkific provides online course creators.
1. Thinkific Course Builder Module.
Thinkific enables creators to provide different membership levels, drip content features, and custom course appearance. It is challenging to keep an online course Interesting but Thinkific provides different ways content can be displayed and these are:
Vidoe
Quizz
Text
Presentation
Assignment
Download
Survey
Audio
PDF
Live feeds
Assignment

Course Appearance Customization.
With Thinkific, you can upload your descriptions and custom images for your course. You can change the color themes, texts, fonts, But Different customization features depend on your subscription plan.
Your course will look the exact way you want it to look.
Membership Levels.
As an educator, your online course must have a proper revenue strategy. With Thinkific, you can create different membership levels for your students.
Even though. Some membership levels are only accessed according to your subscription plan on Thinkific.
Here are some of the membership levels I found.
Free membership plan
One-time Payment
Subscrption membership
Monthly payment Plan
Custom Pricing options
Drip Content.
Drip content is important for students, it allows you to release content according to user milestones, for example, student course starts to date, custom calendar days, and student enrollment date.
Drip content allows your students to cover previous lessons allowing them to implement lessons successfully.
Thinkific Certificates Of Graduation
Certificates provide motivation to learn. Thinkific allows coaches to create professional course Graduation certificates.
You can also choose to pre-loaded certificates or customize certificates with your brand logo. Thinkific provides all the necessary tools to create a nice-looking graduation certificate.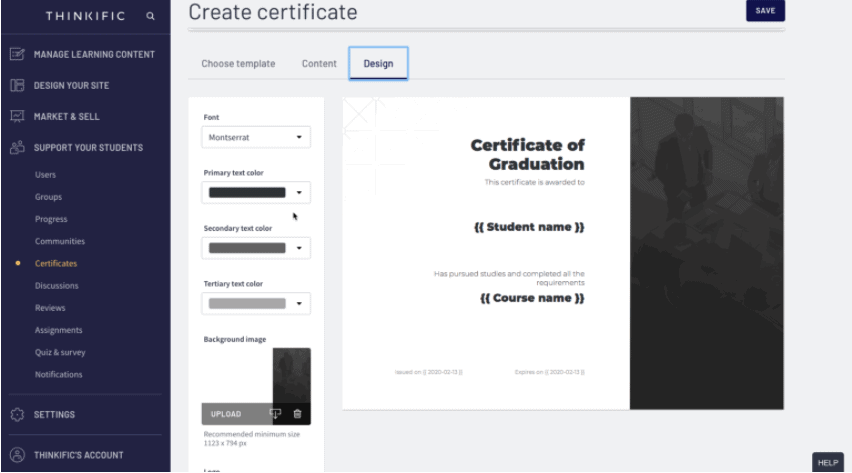 2. Thinkific Website Builder.
Having a website for your online course is critical and Thinkific does an amazing job by providing efficient tools for that.
Below are the different toolsThinkific Provides
Drag-and-Drop Page Builder
As someone who doesn't know much of technology, creating webpages, coding, and handling HTML can be a disaster but with the drag and drop page builder. You can create anything from scratch.
With Thinkific, you can create a page just in a matter of seconds. You can choose between sections example videos, reviews, countdown timers, calls to action, checklists, banners.
Custom Domain
With Thinkific, you can add a custom domain to your website, this is an important step in branding. Even though, this feature is for prepaid members.
However, as a beginner, you can always use a subdomain for Thinkific.
Check out our step-by-step guide on how to stand a blog.
Theme Library
We all want a nice beautiful looking website, Thinkific does the job by providing us with a theme library where you get to choose your perfect themes.
With the amazing customization features, you can turn your website literally into anything you desire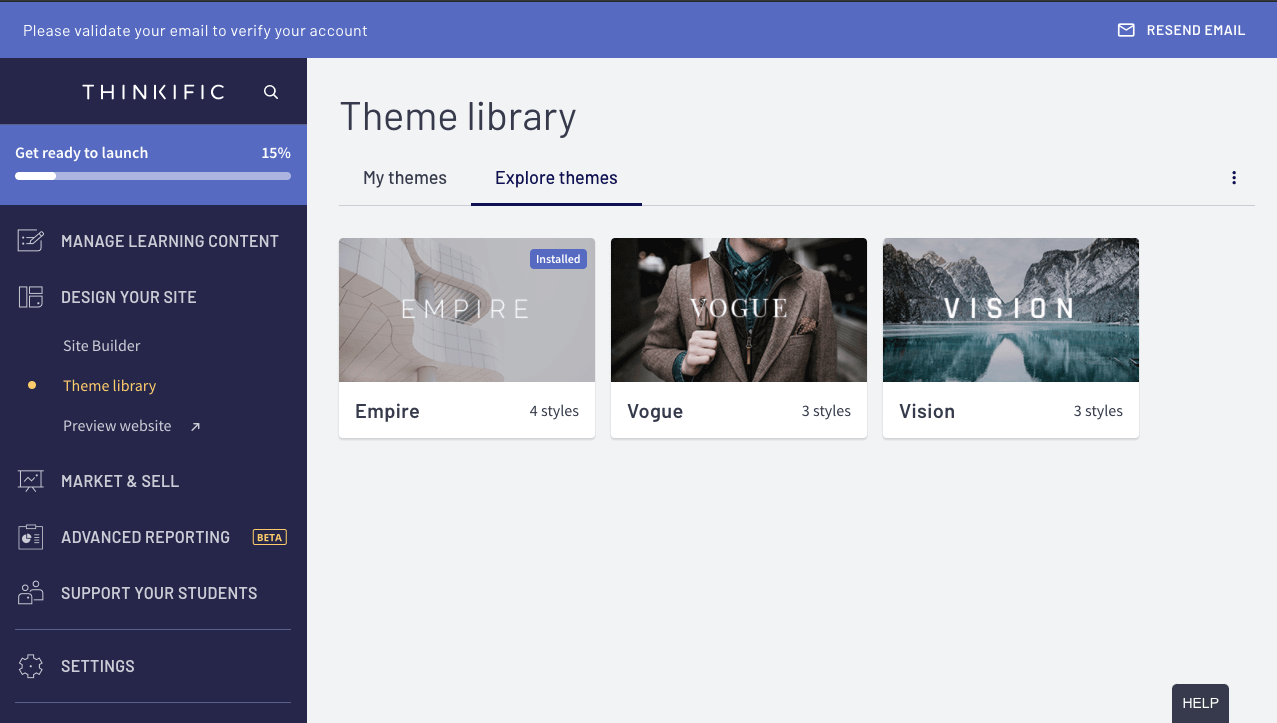 SSL Certificate
Having an SSL certificate is a must nowadays, it ensures the security of your student's information, besides, your site will show secure in the chrome web browser.
Thinkific offers a Basic SSL certificate for all plans, but if you want a more advanced SSL, you will need to upgrade to a premier plan.
3. Thinkific Payment Options.
A good online course platform should provide flexibility in the payment gateway. Thinkific allows your students to choose a platform they are comfortable with. It provides support for Paypal and Stripe.
Paypal is available in over 200 countries and Stripe makes it easy to get both debit and credit cards, Your students will find it easy while making a purchase.
Thinkific also makes direct payments to the seller's Stripe and Paypal accounts. you won't have to wait for so long to get your payments.
You can improve your Checkout pages by adding custom conversion elements for example videos, the ability to upsell, and reviews. These features all make Thinkific Unique.
4. Thinkific Marketing Tools.
Promoting an online course can be exhausting, however, Thinkific has all the right tools to boost sales for your online course and these include:
Sales Widget
Thinkific offers a sales widget that makes marketing easy, you can promote your courses on other websites and networks to boost your sales.
You can use code snippets on network sites to drive sales to your courses, it comes with different variations, course cards, and buttons.
Third-Party Integrations
It integrates well with other marketing tools like Aweber and Mailchimp. By connecting email marketing platforms, you can boost your marketing campaign by collecting leads.
3rd party integrations are divided into different categories which include:
Automation: Zapier,Infusionsoft
Email marketing, ConstantContact, Aweber, Mailchimp and ConvertKit
E-commerce: Paypal, Shopify, Stunning, Stripe
Student success: Zoom, Disquis. Accredible
Growth tools: Sumo
Analytics: Facebook, Segment.oi, Google analytics and facebook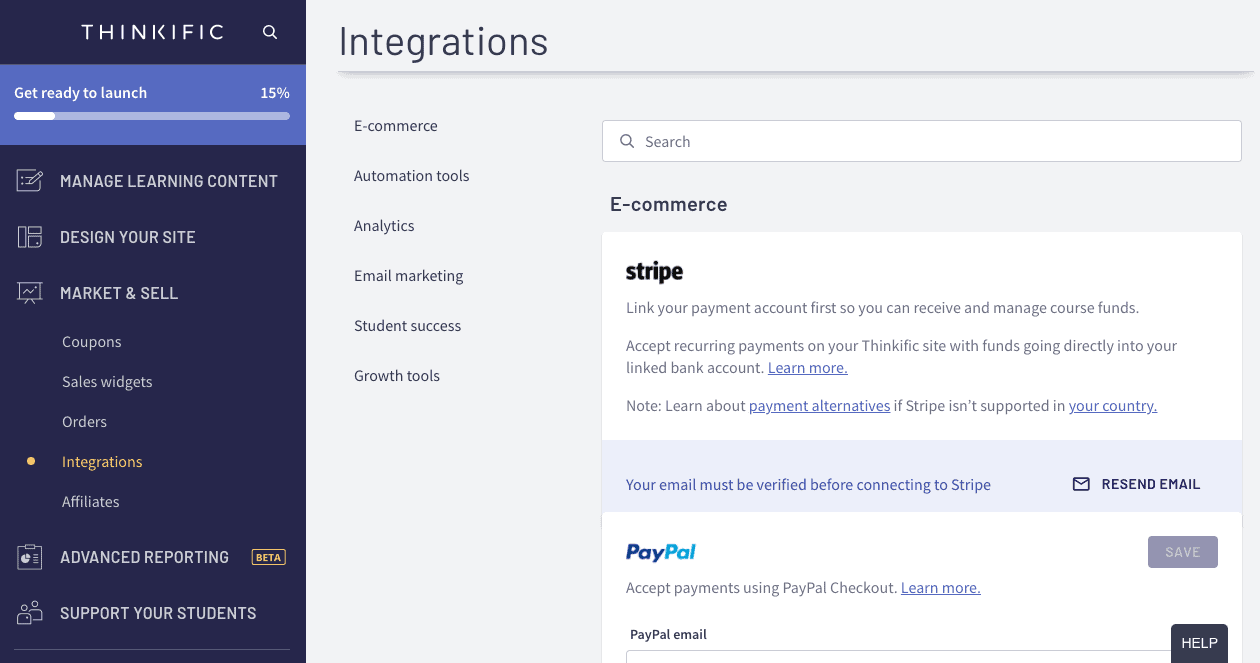 Coupons
One of the best marketing tricks to motivate people to buy is by providing coupons, Thinkific allows course producers to make coupons for discounts.
It allows you to offer both fixed and percentage discounts. it is also possible to generate multiple codes for every course you sell.
With coupons, you will be able to trick your students into making a purchase.
Affiliate Program
Working with affiliates is the most popular digital marketing strategy for businesses that want to expand, Allowing people to promote your course for exchange of a small commission will help you get more sales.
Thinkific allows you to add affiliates to your course, you can enroll your students as affiliates because they have enough knowledge about your course.
It also has the tools to track your affiliate program and approve commissions but you have to other platforms to make payments to your affiliates because Thinkific doesn't support such a feature right now.
5. Thinkific Reporting Capabilities.
To be a successful online course creator, you need to be able to track your Enrollment, Student engagement, orders, and overall revenue.
Thinkific has a powerful robust reporting system that provides insights in real-time.
The robust reporting system allows creators to track:
Sales : Thinkific allows you to review completed orders, you can use filters like coupons, payment method, type of student to understand how the sales happened.
Revenue: With this tool, you can track your overal revene, you will be able to anayse how much revenue you have generated in a particular period of time.
Student's Enrollment:The enrollement section allows you to see and track both free and paid enrollents over a given period of time. It provides analytics that can help you boost your sales.
Student's Engagement: Thinkific provides insights on how your students are using the course, you can check the average time they took to finish the course, quiz score and more student data.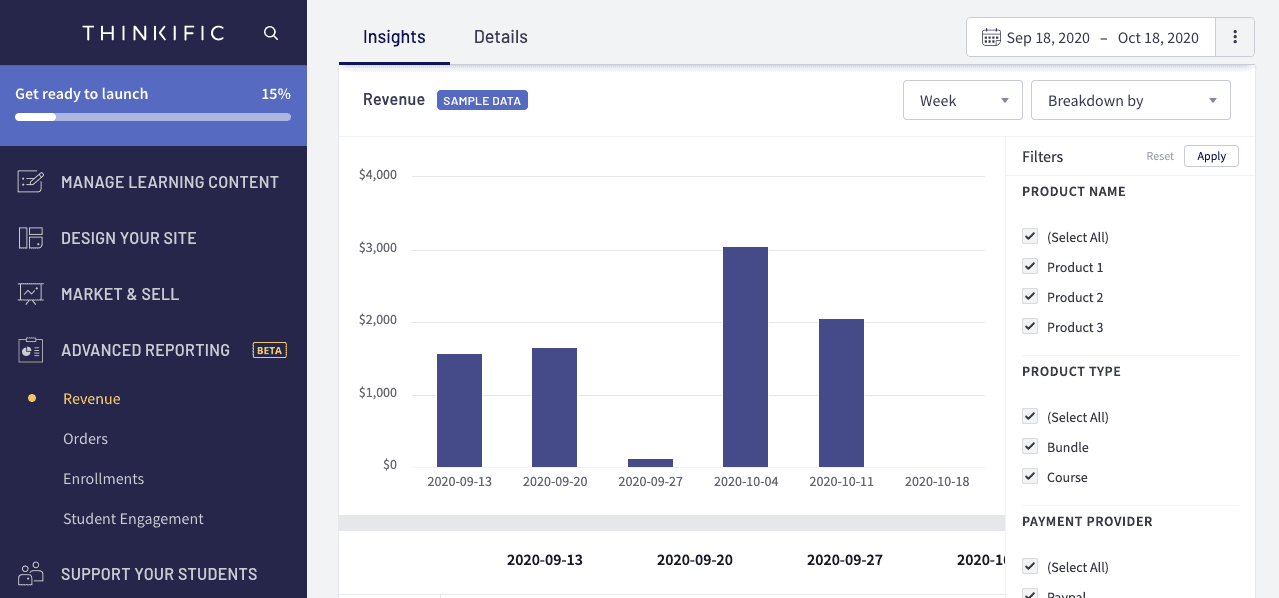 6. Thinkific Student Management.
Thinkific comes with a User-friendly student module, it is easy for new students to sign up and also provides relevant communities for students to get enrolled at.
You can also add clear filters and segments to create a student-friendly online course for your learners.
For all plans, you can enroll unlimited students in your courses.
Thinkific Provides a way where your students can interact with each other for improved learning, this can be communities, groups, and discussions.l
You will be able to see your student's progress reports, Reviews, and certificates of completion. Reviews will help boost your sales and Certificates will motivate your students to learn and finish the course.
With Thinkific, It has the right tools to provide multiple quizzes, Assignments, and surveys to your learners. Besides, you can add Graphics and Videos to your quizzes.
7. Thinkific Pricing Plans
Now that we have discussed the features of Thinkific, It's time to talk about their pricing structure.
Thinkific allows online course creators to start with a Free plan allowing you to create only 3 courses with unlimited student enrollment. This plan is good enough for anyone who just wants to try out the different tools of Thinkific.
Here is Thinkific pricing rates.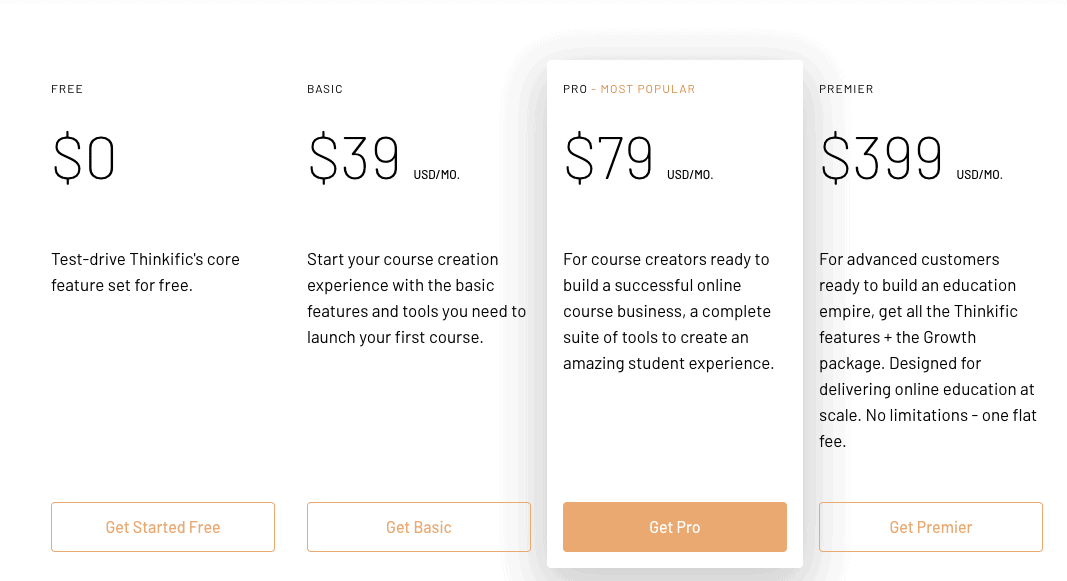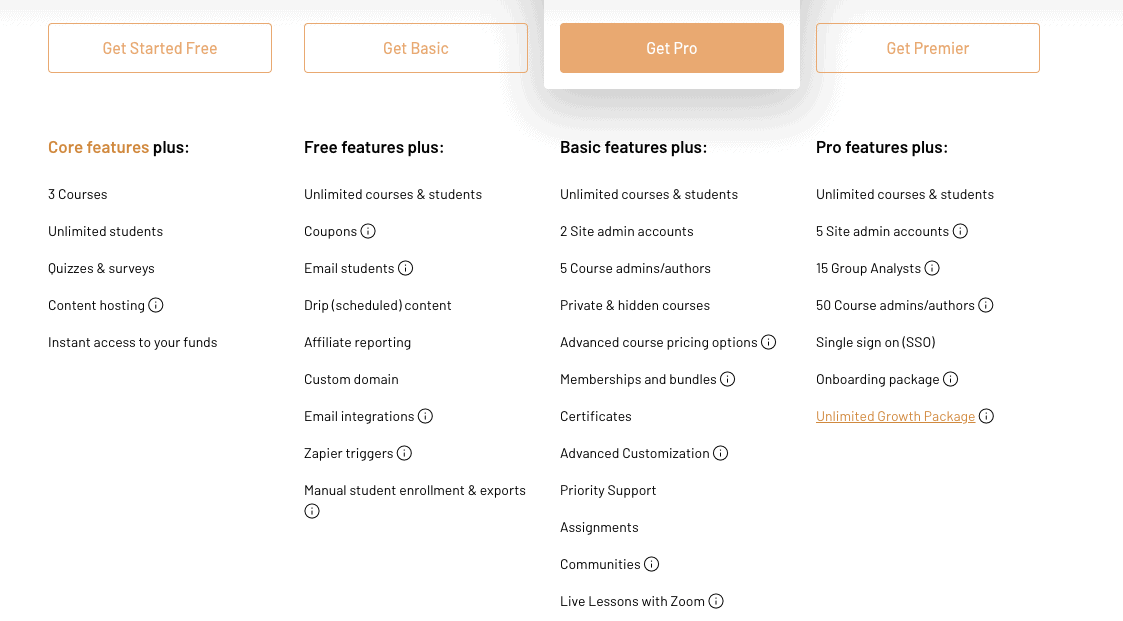 Free plan: Ideal for anyone who just wants to test Thinkific out
Basic plan: You get unlimited courses, coupons, email students, drip, affliate reporting, custom domain, email intergration, zapier and manual student enrollement.
Pro: All basic features , 2 site admin accounts, 5 course admins/authors, private/hidden coursee, membership, advanced customization, priority support, assignments, communities, live lessons, advanced course pricing options.
Premier: All Pro features, unlimited courses and students, 15 group analystys, 5 admin accounts, 50 course admins/authors, Single Admin Sign in, Onboarding package.
Should You Use Thinkific?
Yes, Thinkific has all the tools that will help your online course become a success, it has all marketing, promotional, editing, and student engagement tools.
It is one of the best online course platforms with over 75 million students and over 50000 online course creators.
Hope You Enjoyed Reading This